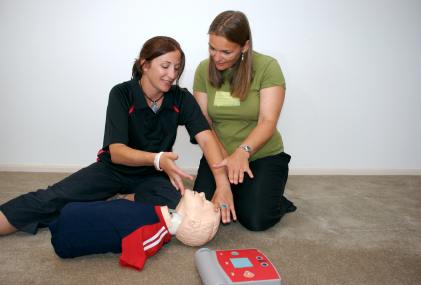 Inspiring news coming from Yorkshire today, as a monumental 138 secondary schools have signed up to receive cardiopulmonary resuscitation training, on European Restart a Heart Day – Monday 16th October 2017.
Restart a Heart Day 2017
Yorkshire Air Ambulance Service NHS Trust will be visiting schools throughout Yorkshire on the day in question. On Restart a Heart Day 2017, the Trust will be teaching CPR to over 25,000 children – making this the largest event of its kind that has EVER been held in the world! This is on top of the fantastic work that the Yorkshire Air Ambulance Service has performed over the past three years, assisting a further 51,000 children in resuscitation support.
Last year, on Restart a Heart Day, the Yorkshire Air Ambulance combined with other ambulance trusts in the UK, to teach over 116,000 youngsters life-saving skills. This year, other ambulance trusts will be joining in again, with the aim being to teach over 150,000 youngsters nationwide. The 138 schools which have signed up in Yorkshire, are distributed as follows: 55 in West Yorkshire, 32 in North Yorkshire, 31 in South Yorkshire and 20 in East Yorkshire.
To help with their ambitions for Restart a Heart Day 2017 , YAS has received the assistance of ITV news presenter Christine Talbot, who is acting as an ambassador for the programme. The hope is that using such a famous ambassador will greatly boost the interest in the scheme from outside parties, as well as schools. Judging by the enormous number of schools who have signed up, it certainly appears to have worked so far!
Discussing the plans, the Resuscitation manager for YAS emphasised the importance of working as fast as possible in the event of a cardiac arrest, and that every second counts. She pointed out that the majority of cardiac arrests happen at home, and therefore by equipping youngsters to deal with this, they stand a far better chance of saving lives.
The praise for the plans has been echoed by various professionals from other charities across the UK. The head of survival at the British Heart Foundation declared that it's fantastic to see a nation of 'lifesavers' being created, and that they are totally in support of youngsters gaining the confidence to step up and save a life when they need to.